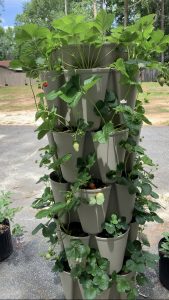 Enjoyable. That is the best word I can come up with. It was an enjoyable experience. Let me explain!
I had built the GreenStalk up in my head as the greatest thing in gardening history. I heard about it on a vlog I watch often. The gal had an affiliate discount code so I thought I was in for a revolutionary experience. (See the video review here)
And it was, sort of!
I used the coupon code and very soon, I mean VERY SOON, the package was arriving at my house. They must have shippers in their warehouse 24/7 because no sooner than I hit submit on my order my doorbell rang and my box was being delivered (slight exaggeration)!
I ordered the 5 Tier GreenStalk Original Vertical Planter with the optional mover. I added in the Stainless Steel Plant Markers to hit the "Free Shipping" threshold because I am a sucker for a great deal!
When the box came I was immediately struck by the postcard of the GreenStalk family inside. What a great personal touch. I was instantly in love with my product because I felt like I was supporting this beautiful family on the card AND it was made in America and that is a big deal to me!
Setup is a breeze! I can't stress this point enough. ANYONE can set this up. There were instructions, but honestly, they were not needed. The only setup needed on the mover was to pop the wheels in the holes. Three locking wheels, three non-locking wheels, and alternate them! Seriously, a child could do this.
Setting up the tower was just as simple. And even though I had read not to try to stack it without soil in the levels…I tried anyway! And, you can't! So, you can not even mess this up.
I did need a little help getting the fourth and fifth levels stacked when they were filled just because I didn't want to get it dirty. Yes, I didn't want the dirt to get on my garden tower! So far…so good!
I add some fertilizer and planted my GreenStalk with radish seeds and some small lettuce and spinach starts that I had grown, and anxiously awaited this bounty I was going to get! And waited, and waited!
Now, I have to preface this with the fact that I started them early, before my last frost, and they did ok. The radishes germinated and started to grow. The lettuces all just failed, but the spinach did great! I have decided, and probably not correctly, that the spinach did well because it was closer to the ground and was getting some heat from there. Another note…all of the crops I planted in my GreenStalk, I also planted in a raised bed. Same variety, same planting day. The raised bed crops all did splendidly.
So round two! I decided that I would go for strawberries this round. I have two raised beds and several grow bags of strawberries and I was running out of room. So, in go the strawberries! These were a BIG hit with the GreenStalk! They grew, flowered, fruited, and gave me some fantastic strawberries for about 3 weeks.
Then it happened! Japanese Beetles attacked. Here is the strange thing…they did not attack the strawberries in the raised beds or grow bags. Again, I have come up with my own theory that they attacked the GreenStalk because it was higher. I have no science to back that up and no idea if that is the case…but for some reason, they hit those strawberries and not the others.
Today the beetles are gone, the upper three levels are covered in recovering strawberry plants and the bottom two layers are waiting to be planted with runners from above. The bottom plants did not survive the beetle apocalypse. I very much enjoyed the GreenStalk process, and even plan to buy another one because none of the issues I had with my first year can really be blamed on the GreenStalk itself. I am sure that year two will go better than year one.
Here is a picture from the GreenStalk website of what should happen:

Maybe this will be my experience in year two!
I was not paid or compensated in any way for this review. I purchased this item and have given my opinion after using it myself on my personal farm.
The Review
Review Breakdown
Shipping

Quality of Materials Used

Ease of Use

Value for Price

Effectiveness of Growing Option