FALL CLEAN-UP DAY FOUR: The very first tree I planted on this property was this beautiful pomegranate tree that we lovingly named Polly! However, because there was so much to be done we just threw Polly in the ground and went on to other items on the to-do list. So, this project definitely needed to be on the Fall Clean-Up list!
The first thing we did was measure a 5′ ring around the tree base and start cleaning out the edges and work our way to the center. I was dreading this but it actually went very easy…mostly because I just did the edge and my son did all the center parts!  Love free labor!
Then, I added some Kellogg Organic Bagged Soil to the area we cleaned out. I like to do this when I am planting anything in the areas that I clean out. Had I just been making a cleaned-out area, I probably would have just used top soil. That is when the fun began!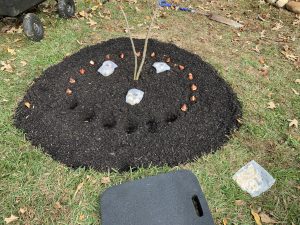 I had chosen four of the bulbs that I ordered a couple of months ago (read about that here) to go in this area around the tree. Alison Bradley Double Early Tulips, Mercurius Alliums, Drumstick Alliums, and Ostrowskianum Alliums have all been incorporated into this circle and are set to make a gorgeous show in the spring and for years to come! I put the tulips about midway back in a circle around the tree. The Mercurius and Drumstick Alliums were placed closer to the tree in bunches to give it a little more interest. Finally, the Ostrowskianum was placed in a circle between the tulips and grass because it doesn't grow very tall. I
am excited to see how it all comes together. And no…I did not realize that the picture was a smiley face until I saw it on my computer screen. But, I was happy so it is fitting!
Finally, I used some chicken wire to screen out some broken-down woodchip mulch from one of our Chip Drop piles. I chose to use this mulch instead of a dyed bag mulch from a big-box store because I was putting it around a fruit tree and I want to keep as many chemicals out of our food as possible. I am absolutely thrilled with the way this project ended up and I can just dream about the fruit on this tree surrounded by all those beautiful flowers!
One major project remains and I will feel like my Fall Cleanup was successful! But this last one is a doozie!  Stay tuned!