If you have been around here very long, you know that I love to buy my gardening needs online. If you have never considered buying plants or trees online, take a look at this article and you can see why I like it so much! https://thedailyhomesteader.com/6-reasons-to-buy-plants-online/
My most recent online plant arrival came from PlantingTree.com. I have an affiliate relationship with PlantingTree.com and I wanted to make sure that if I promoted them that they would live up to the hype! I received a 2 Gallon Bushel and Berry® Raspberry Shortcake® on Saturday, September 25 and this is my experience with the company and this product to this point!
Arrival Day
Unfortunately for my sweet little raspberry plant, the delivery was delayed a couple of days. We still have no idea why, but the shipping company just didn't feel like coming this way for a few days. This was, in no way, a reflection on PlantingTree.com, but the plant had some serious signs of stress! The leaves were turning, drying, and falling off. I was frustrated with the shipping company but knew that plants want to survive and that this little gal was likely no different. Yes, my Raspberry Shortcake bush is a girl!
So I went to work!
I unpacked the plant, watered her well, and sat her on the front porch of my house so I could check in several times a day. Over the next few days we had sun, and mild temps, and with the excessive amount of water she received, she perked back up in no time. Of course, there was some leaf loss, but within a few days, I noticed that I was getting some significant new growth on the top so I felt like she was in great shape!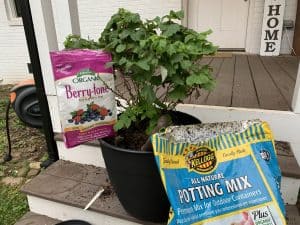 After A Week
I decided pretty quickly that this plant was going to be a great addition to my garden and got her potted up in her new home. One of the reasons I wanted to try the Bushel and Berry® Raspberry Shortcake® was because of its compact growing size. Even if you don't have a 5-acre farm or a yard at all, you can grow this cute little bush in a pot on your porch or balcony. I chose a 16″ pot to start with. For a 2-3′ tall plant, I think this should be fine but if I have to up-pot her later I will.
There are two things that I am always concerned with when I am planting anything my family will consume and that is making sure it is in organic soil and that I only use organic amendments. So, of course, I chose my go-to Kellogg Potting Soil and Espoma Berry-tone.
I will leave this gal on the front porch for a few more weeks to make sure she is settling well and growing before finding her a semi-permanent home on the farm but I have no reason to believe that she will do anything except thrive.
Now, if the story had ended differently, I know that PlantingTree.com would have replaced the bush because of their extensive warranty options. A warranty option is something I always look for when buying live plants and trees online and PlantingTree.com offers buyers a few different options.
I learned a few things about PlantingTree.com specifically through my first experience with them.
First, they pack their plants well. There was absolutely no damage to my bush at all due to shipping packaging. That may not always be the case, but I feel confident that if they packed this bush so well, that they would package other things the same way.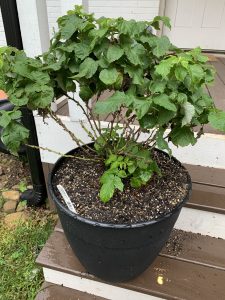 They ship healthy plants. If this plant hadn't started off being such good quality, it may not have snapped back as quickly or even survived at all. Being tossed around a shipping truck, with no sun or water and little airflow can cause quite a bit of stress to a plant even if it does arrive on time. Because this plant had two and half extra days of this I expected to receive a dying plant and this one was far from that. She was a little irritated but calmed down once I got her settled in.
Finally, they have a great resource center on their website that can answer all kinds of questions about their process and products for beginner gardeners and plant-nerds like me!
For me…PlantingTree.com lived up to the hype! I would recommend them for your plant and tree buying needs with confidence. If you would like to support our website through your purchases from PlantingTree.com, please click HERE to use our affiliate link. It does not cost you any extra to purchase this way!
Stay tuned for updates on my Bushel and Berry® Raspberry Shortcake®!
The Review
Review Breakdown
Packaging

Plant Health

Plant Size

Planting Instructions