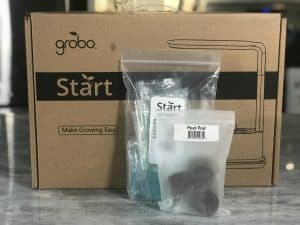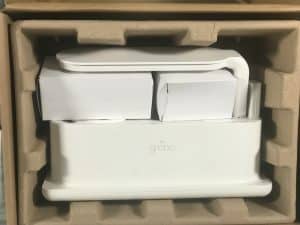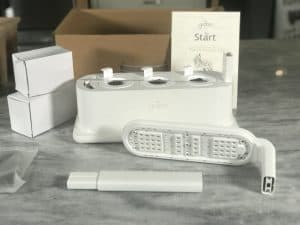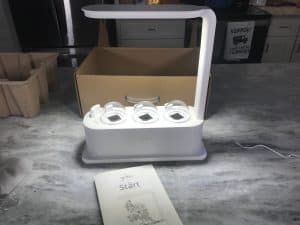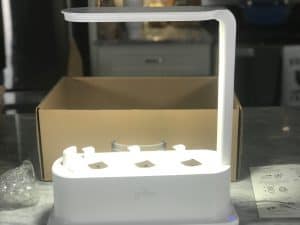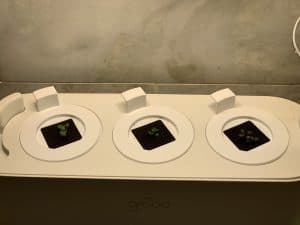 A few years ago I started to dabble in hydroponics. I liked the idea of not having to buy expensive soil to grow my veggies and I liked the concept of not being constrained by growing seasons. I am not a gardening rule-follower by nature and being able to grow things during the winter months that normally are summer crops made me a little giddy!
However, I found that the way I was doing it created so much mess and took up way too much space that I gave it up after just a few months.
And then I found this little gem. The Grobo Start is small enough to sit on my kitchen counter without driving me crazy, has a stylish design so I won't be embarrassed to leave it out when we have guests, is easy enough to set up, and while it can only grow three items at a time, it was cost-effective enough that you could have a few of them on a shelf in a corner without taking up a lot of room!
But…does it work? I reached out to Grobo to find out for myself. I was sent the Grobo Start and I immediately got to work! Work is a strong word…what I really did was start playing with the machine!
The first thing I noticed is how well everything was packaged in the box. There was very little risk of damage while shipping because the packaging was snug! This is important to me because it is horrible when you find a product you want to try out or send as a gift, and it arrives broken! Pretty much, no chance of that with the Grobo Start!
When I started unpacking the pieces I realized just how easy it was to set up. There are really only a few pieces, plus a cord, and the instruction booklet tells you exactly how to connect them so that the lighting system works. Piece of cake! Set up took me just a couple of minutes and this cute little thing was ready for seeds!
I decided to try 3 varieties of basil in my Grobo Start because we eat a lot of basil and I can't grow it in my area during the winter. I popped the seeds in the provided peat pots, added the water and put the humidity domes on, and turned on the light. There are two time cycles for the light, an 8-hour and 16-hour cycle. I chose the 16-hour for my basil trial.
Then the light went off. So I turned it on again. And again, it went off. What was I doing wrong? I played this game for a few days and could not figure out what I was doing wrong. And then I read the instructions for what seemed to be the 15th time. I was only pushing the button once and I needed to push it twice!
Now, that I have figured out the light, the seeds have all germinated and are starting to grow. I am super excited about the possibility of having fresh basil in the dead of winter!
As my Grobo Start needs water refills, I can add the nutrient packs that are included in the box. They have thought of everything to get you started with ease!
I love the idea of this as a gift! It is stylish, functional, and super fun to use! With the built-in light system, Grobo Start can be placed in any room, in any corner! And once one crop is done, starting another is so easy! I bet you can even use this for house plants! At under $100 this would be perfect for everyone!
Stay tuned for updates as my plants continue to grow!
If you would like to support our website through your purchase of a Grobo Start, or any of their other great products, please click HERE to use our affiliate link. It does not cost you any extra to purchase this way!
The Review
Review Breakdown
Shipping & Packaging

Quality

Ease of Setup

Styling