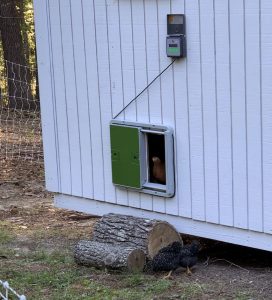 When we decided to have chickens, we did a lot of research on different coop options and decided we would just get a small (10 x 12) barn for them and convert it into a coop. We added two windows, a large roosting ladder, built some nest boxes…that we will be upgrading sometime soon…and we bought the Omlet!
Omlet is a company that has tons of products for various small animals including our beloved chickens. They have coops, runs, feeders and so much more! But we were after the door!
The install was really rather easy. The included instructions made the setup a breeze. The hardest part was building up the nerve to cut a hole in the side of the barn. Once that was done…just a few screws and we were set!
We hung our door to open from right to left. But, the door can be hung to open in either direction so if your needs are different than ours, you can just flip the unit over and it would open from the other side.
The battery power pack hangs just above the door and if you were concerned about the cord blending in, you could paint it. I wasn't all that worried about it.
You program the open and close time and then don't worry about it for another 4-ish months when you need to change the batteries.
Our sweet girls were a little unsure of it the first few days it was installed (we have cameras set up in the barn so we can check in on them when we want). But after a few days…they loved it too!
I was concerned that it could hurt them if they got hit by it when trying to run in at night. But, we tested the door with our hands and it never failed to open back up if something was in its way.
I would highly recommend the Omlet Universal Automatic Chicken Coop Door and am looking forward to using their other products as well!
I was not paid or compensated in any way for this review. I purchased this item and have given my opinion after using it myself on my personal farm.
The Review
Review Breakdown
Shipping Time

Sturdiness

Ease of Setup

Ease of Install

Value for Money