FALL CLEAN-UP DAY ONE: Removing The Thorny Raspberry Bushes
My homestead needs some cleaning! Summer was such a busy time with chickens, pigs, gardens, new grandbabies, and daily life that there are some BIG tasks that need to be done! I thought I may be able to motivate you to get your Fall Clean-Up started by sharing some of the things on my list!
Last year when we moved to this property I had all these dreams of large berry patches growing where the kids could run in and out grabbing snacks all summer long. So, I purchased 6 raspberry plants to get started!
No research…just shop, click, purchase!
During the time I was waiting to plant them I noticed we had thousands (no exaggeration) of raspberry brambles all over the treelines of our property. So…I started doing some research about raspberry growth habits. Apparently, I learned, they are highly invasive! If I planted one bush in one spot, chances are I would have hundreds all over in a few short years.
So, I brilliantly decided that I would just plant them in very large containers and they couldn't spread that way. True enough, they didn't spread! They grew up the trellis I provided in each pot and gave us berries. Decent-tasting berries I might add.
If you have ever grown raspberries, or even picked them, you know why my dream of kids picking their own berries would never work!  THORNS!  Hundreds, thousands, tens of thousands of these tiny little devils grew all up and down my raspberry canes. There is absolutely no way I could let my grandbabies, the oldest of which is only three, pick their own berries. I was so bummed but had resigned myself to bland, store-bought raspberries.
Until! Until I discovered the Bushel and Berry® Raspberry Shortcake®. By a lovely twist of fate, I partnered with PlantingTree.com and they sent me one of these fantastic, THORNLESS, bushes! Read about my experience with this bush so far here!
So, clean-up day one is all about getting the thorny bushes safely off my property! Since I don't feel comfortable just tossing them in the trash can for the normal pick-up, Sam is just going to burn them.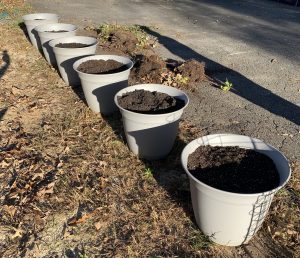 Update: Thorn removal complete! I was amazed at the runners and roots these one-year-old plants made. They would have created havoc had I planted them in the ground so I am even more excited about the Bushel and Berry variety.
*Side note…I loved that Bushel and Berry plant so much that I had ordered another one. It arrived just as I was finishing up the removal of the thorny evil canes!
Welcome home sweet berry bush! You will be well-loved!