It is the time of year where the gardens have slowed down or completely stopped, daylight hours are much shorter and we shift our dreams to the gardens of next year. Meaning…It is seed shopping time!
For gardeners, this is one of our favorite times of the year. We gather all of our seed catalogs, fill our cups with our favorite drinks, and cozy up to dream, plan and shop for next year.
Here are a few "Things To Think About" when you are planning your seed purchases.
1. Seeds Don't Expire! If you have seeds leftover from this gardening season, keep them! They are still good. The "Sell By" or "Packaged For" date on the package is to fulfill a legal requirement. That really is just telling you that those seeds were saved from items grown for this year.
Seeds, if properly stored, can last for years. There are some varieties that will lose germination rates, but for the most part, they will work year after year. How do you properly store them? Keep them cool and dry. I have my seed collecting inside my house in a plastic photo storage system.
2. Make Notes And Comparison Shop! Many seed companies will sell the same seeds but at different prices. Make notes about the seeds you want based on characteristics and varieties and then search several catalogs and websites to find the best price. Sure, some varieties you can only get in one place, but that is rare. I have strawberry blonde calendula seeds on my desk so I did a quick search online for those seeds. I found 8 seed companies very quickly that sell those seeds with prices from $3.00 – $4.95 per pack. That extra $1.95 will add up if you are buying many seeds!
3. Make Sure Your Growing Season Is Long Enough! Some seeds require a very long time to grow and ripen fruit. Make sure that your growing season is long enough to grow the variety of seeds you are looking to buy. Just Google your average last frost date and average first frost date for your location. Then Google how many days fall in that timeframe. My average last frost date is March 23 and my average first frost date is November 13. So, I Google "How many days are between March 23 and November 13". With no effort at all, Google tells me that there are 235 days in that timeframe. So, my growing season is 235 days! Of course, you can do things to extend your growing season, but for our purposes, we will stop there!
4. You Can Not Buy GMO Seeds! As gardeners, we are most likely all concerned with the food we put in our body and we do not, typically, want GMO foods. No worries! It is not legal for any seed company to sell GMO seeds to the general public. So, you can buy your seeds online, at a big box store, or at the dollar store and you will NEVER buy GMO seeds!
5. Don't Overbuy! It is so so easy to start looking through the catalogs and websites and forget that you don't have a 40-acre farm! Think about how much space you are willing and able to devote to gardening and buy accordingly. There will be other items that you will want to buy for your gardens like soil amendments and fertilizers so don't blow your whole budget on seeds.
6. Seed Spacing Guidelines Are…Meh! In complete contrast to the tip above, remember that the seed spacing guidelines are meant for large farming machinery. Research Square Foot Gardening and you will see just how many plants you can grow in a very small space! This will give you the freedom to explore and experiment with different varieties and plants you have never grown.
7. Try At Least One New Thing! What if you find the variety of tomato, potato, cucumber, and bean that you like and you never veer from that? Well, you will eat and likely become an expert on those varieties! That is fantastic! BUT…what if you grew those and one or two new varieties each year? You may find an explosion of new favorites and your plates will have excitement when you cook with those new crops! Seeds are relatively inexpensive. It is ok to devote just a little area to something new each year! It may just keep you excited to go out and pull those weeds and water on dry days!
8. Remember The Pollinators! Many, if not most, of the things we grow in our gardens need pollinators like bees, butterflies, and hummingbirds in order to easily pollinate the flowers that form fruits. If you are starting or expanding a garden you may not have many flowers that will attract such garden sweethearts so you need to add them to the mix. Yes, you can go big-box shopping and buy these items, but why not just get the seeds and grow your own? You can buy a package of 100 seeds, that will make 100 plants give or take, for the same price as one plant! And, you can find such fun varieties of flowers that you may never see wandering the Depot!
9. Find Friends To Share Seeds With! This is such a great way to try new things, find a community to engage with, and share tips and tricks to growing your own food! There are forums online for these things, some libraries still have seed-sharing catalogs, and Facebook seems to have a group for every community in America! But, if you are still struggling to find seed-loving friends, let me know! I am always happy to swap seeds and talk about different varieties I have grown!
I could probably go on all day with different things to think about when you are shopping for seeds but I will cut it here! Let me know what your go-to things to think about are when you are buying seeds!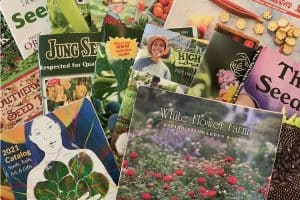 You can also see some of my favorite seed companies by reading this post here!