FALL CLEAN-UP DAY TWO: Potting and Placing All Bushel And Berry Plants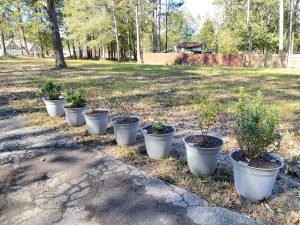 It may be clear that I have a serious love for Bushel and Berry plants. I bought my first four last year and have added three more this year. My collection includes 2 Southern Belle blueberries, 1 Blueberry Glaze blueberry, 2 Baby Cakes blackberries, and 2 Raspberry Shortcake raspberries. I fully intend to own all the varieties at some point!
Two reasons for my infatuation:
Size! I have only had a farm for one year. I have always lived in HOA neighborhoods on standard 1/2 acre or smaller lots so having tons of very large bushes everywhere was never really an option. Because Bushel and Berry's plants are small by nature, they fit perfectly in pots and on patios making them a perfect option for every person who wants to grow their own berries.
Thornless! Normally you have to be careful when buying raspberries and blackberries because they can have thorns. Evil little thorns! But, Bushel and Berry plants are thornless! So, even your littles can pick berries without being attacked by thorns!
I had all these plants in such random places and pots all over the homestead with no rhyme or reason to them. So, I pulled them all to the front to get a good idea of what I had and what I wanted to do with them.
I decided during this Fall Clean-Up I would start my Bushel and Berry garden. After all, if I was going to keep collecting berry bushes from Bushel and Berry I was going to need to get myself a little more organized and not just throw them in a pot and stick them someplace to grow!
I repotted all of my B&B plants into matching pots and chose a "permanent" place to start this garden. Nothing on my homestead is ever actually permanent, but they will likely live here for a season or two.  If you saw Day One of my clean-up you may recognize the pots! Yes…these used to hold the thorny bushes! I did have to buy one more, but that was fine by me!
I am so thrilled with how these all look now and I simply can not wait for spring when they start giving me some great fruit production!
Want more information about Bushel and Berry? Visit their website HERE or Facebook page HERE. I am, in no way, affiliated with them. I just simply love their products and think you will too!
If you want to order their bushes and want to support our website by doing so, you can use any of these links. As an Amazon Associate, I earn from qualifying purchases. Ordering from these links will not cost you anything extra, but will go to support The Daily Homesteader in a small way!
Have you started any clean-up projects yet?